Best Mobility Recliner Chairs Guide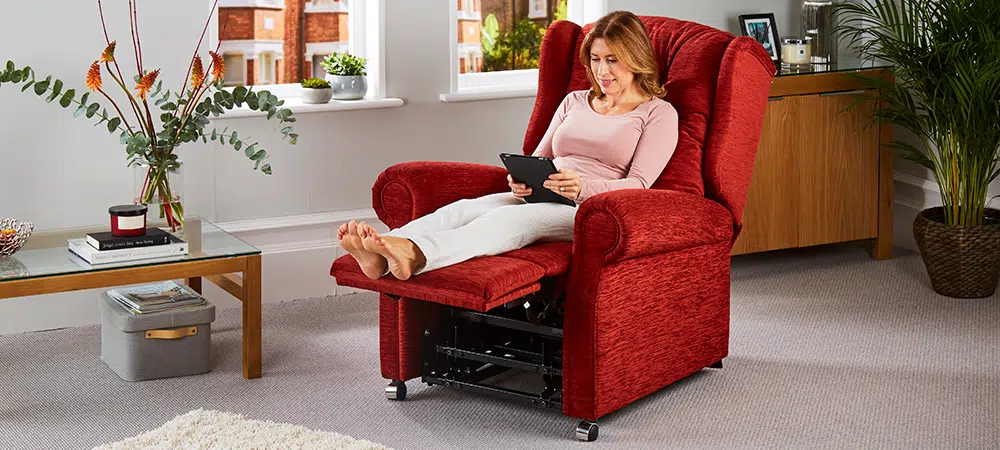 It's difficult to come to terms with the fact that you are now having difficulty getting out of the armchair that has served you for many years. However, we have a wide range of comfortable mobility recliner chairs that would be perfect for your home.
All of our mobility recliner chairs are hand-made to order in the heart of the UK, promising you high British quality. Relax, recline, put your feet up and rise from your chair independently, with the simple touch of a button. Our chairs come in a range of styles and fabrics, with optional accessories to make yours personal to you. Here's everything you need to know and more!
There is a multitude of benefits that a mobility recliner chair can have for you. Here are our top three:
1. Temporary positional pain relief
Living with constant aches and pains can be draining and frustrating, especially when you are trying to relax. Mobility recliner chairs provide you with the correct posture to temporarily relieve back pain. As well as this, by raising your legs and feet, swelling can be reduced and pain can temporarily be relieved after a long day.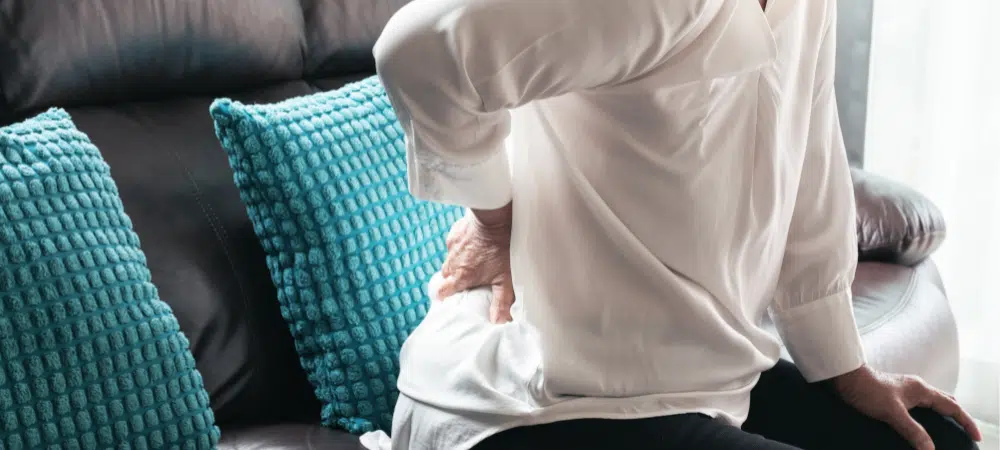 2. Improved circulation
As you age, blood circulation can become rather poor, particularly if you spend a great deal of your time sitting down. This can cause a great deal of discomfort when you stand up after a long period of time sitting. By keeping your legs raised with a recliner footrest, blood flow through your lower legs and feet will improve dramatically.
3. Increased independence
It can be frustrating when you are unable to undertake tasks that were once so simple. By assisting you when you're sitting and standing, riser recliners can enhance your independence in the home. At the simple touch of a button, you can rise to your feet from your chair with ease.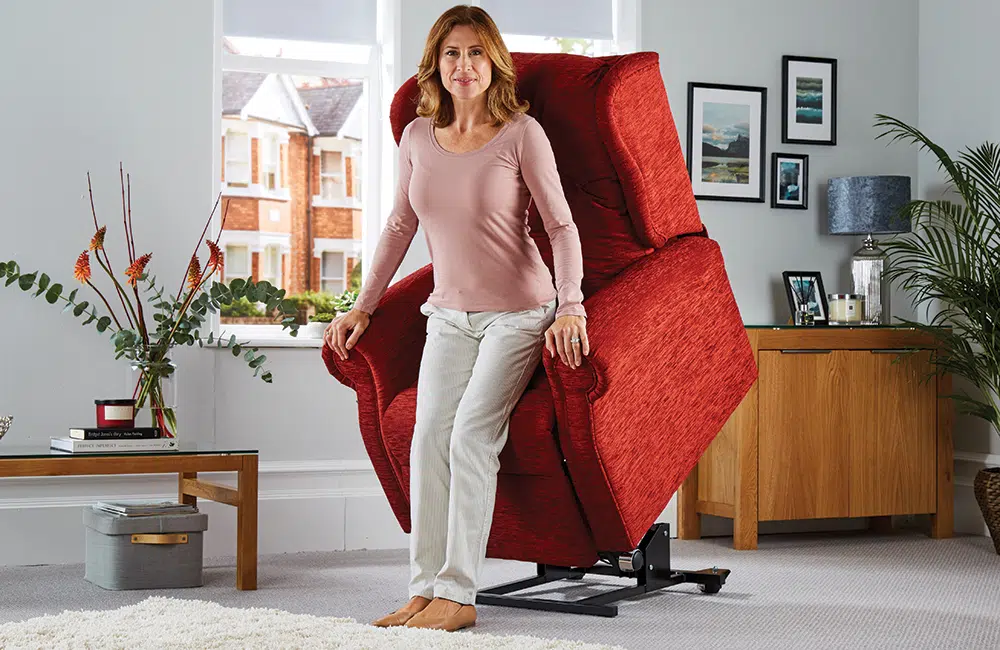 Types of Mobility Recliner Chairs
Our mobility recliner chairs come with the option of having one or two motors, dependent on your wants and needs. So, what's the difference?
Single motor riser recliners
Riser recliner chairs with one motor enable the footrest and backrest to work together in unison. This means that whilst you are reclining, your feet will be raised at the same time. This is the ideal option if you regularly use your chair for sleeping in, or if you rarely feel inclined to recline!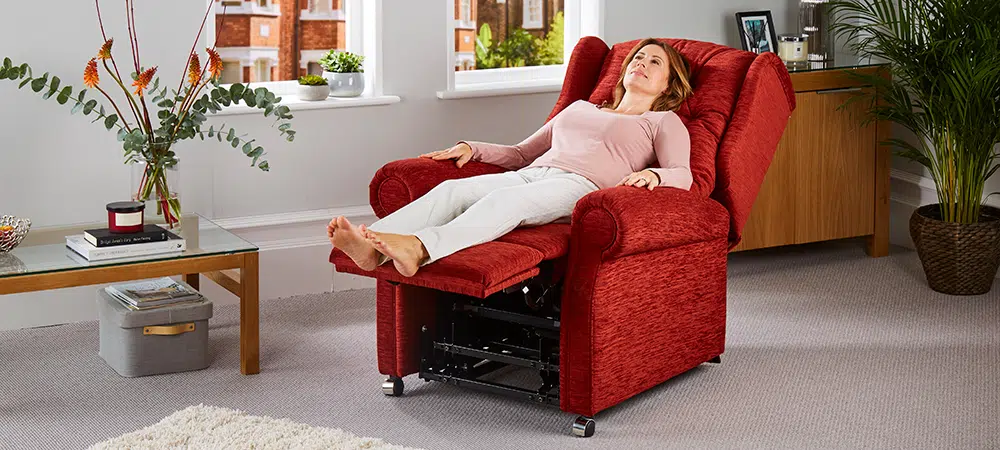 Dual motor riser recliners
When your riser recliner has two motors, you will be able to independently move the backrest and the footrest. This gives you the option of more positions when you are relaxing in your chair. You can sit up with your feet up when you are watching the TV or eating dinner, and just recline your back when you fancy a little snooze.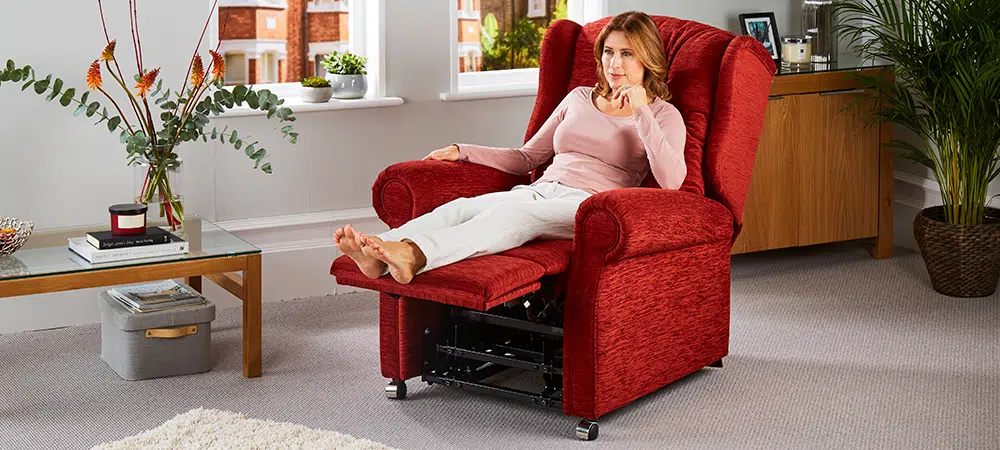 Fabric or Leather Mobility Recliner Chairs?
This is potentially the biggest question that you consider when purchasing new furniture! Of course, both have their pros and cons, and this is something that needs weighing up.
Leather mobility recliner chairs can be easier to clean up when spillages occur (especially by the grandkids!) However, there are a wider range of fabrics available to choose from in a vast range of different colours and patterns.
One thing to consider is where your chair will be placed. Leather chairs can get particularly hot in the summer, particularly when they are placed by windows. Similarly, in the winter they can get rather cold too.
It is also worth considering that leather chairs are hypoallergenic, so are perhaps more ideal in households that have allergy sufferers.
Whether you choose to purchase a leather or a fabric chair, we can guarantee great quality. When making the decision, take into consideration all factors from the colour of your living room to those sometimes-pesky pets.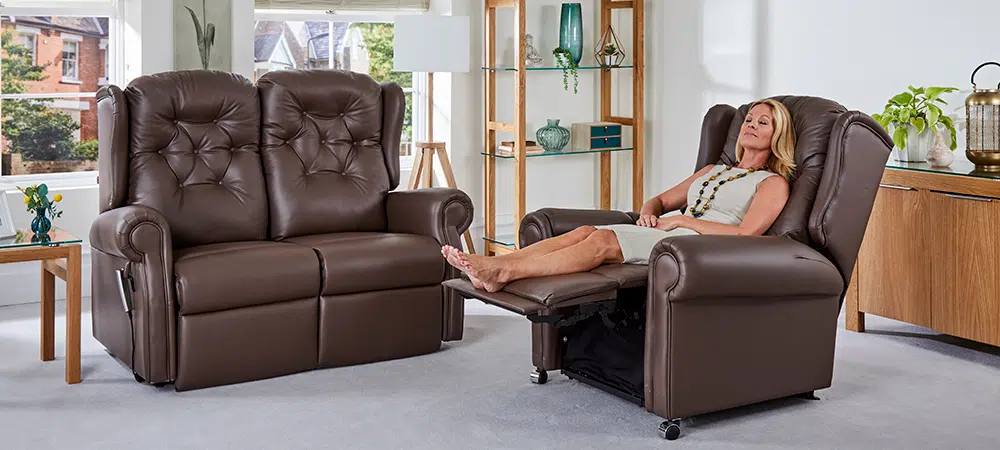 Size
At The Recliner Factory, we understand that not everybody is the same shape and size. This is why our mobility recliner chairs come in a range of different shapes and sizes which suit different weights.
This means that your chair is guaranteed to be the perfect depth, height and width for you. It also means that the positions of your footrest and headrest will be perfect for you, offering you maximum comfort and support.
We always ensure that your riser recliner is the perfect height for you. This ensures that your feet aren't hanging, reducing pressure from your knees and thighs. We also make sure that your chair is the perfect depth for you so that your back and spine are constantly supported.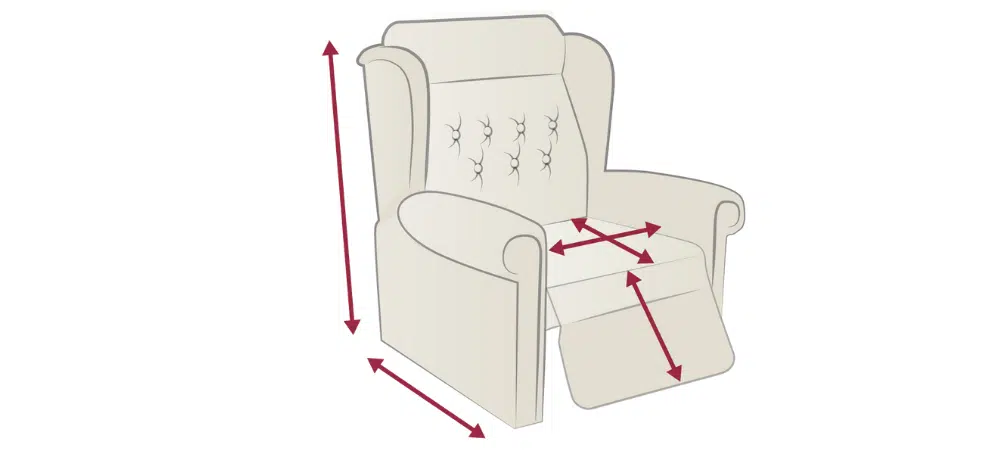 Armrests
If you suffer from limited balance or mobility, it is important to consider the perfect armrests for you.
Wheelchair users will find removable armrests particularly useful. By detaching the armrests, it is easier for you to transfer to and from your wheelchair and recliner.
Our upholstered armrests offer great comfort, but those who struggle to stand independently may prefer wooden arm ends. These are slightly sturdier and are therefore good to hold onto when you are rising from your chair.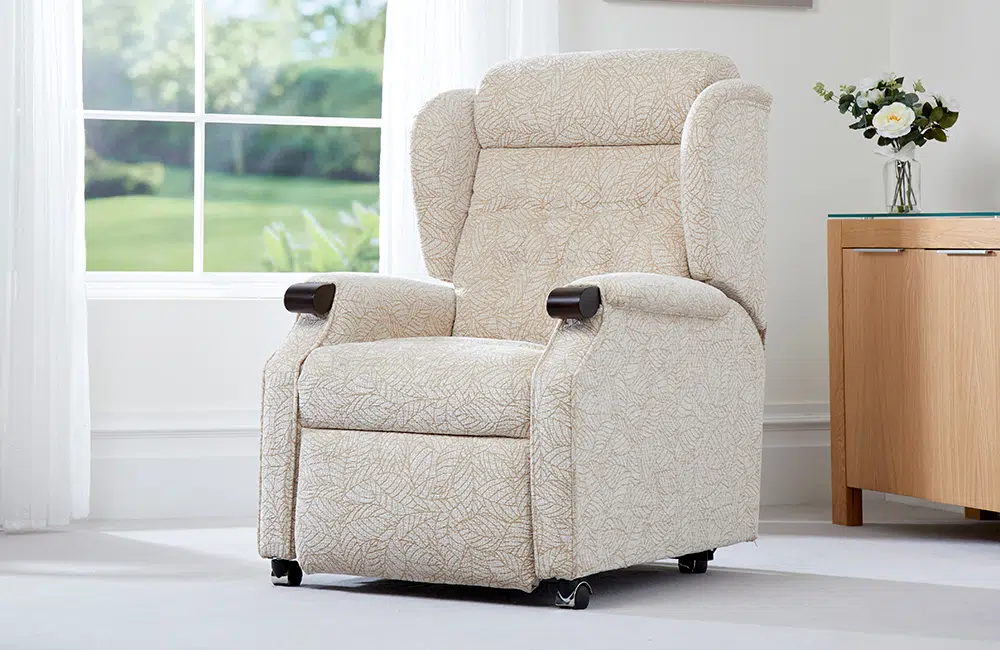 Backrests
We offer a number of back styles with our riser recliners, each of which can enhance your comfort.
Firm back chairs are perfect for those who suffer from back pain, as they allow you to maintain your posture. On the other hand, waterfall back chairs can offer a high level of comfort when you are relaxing.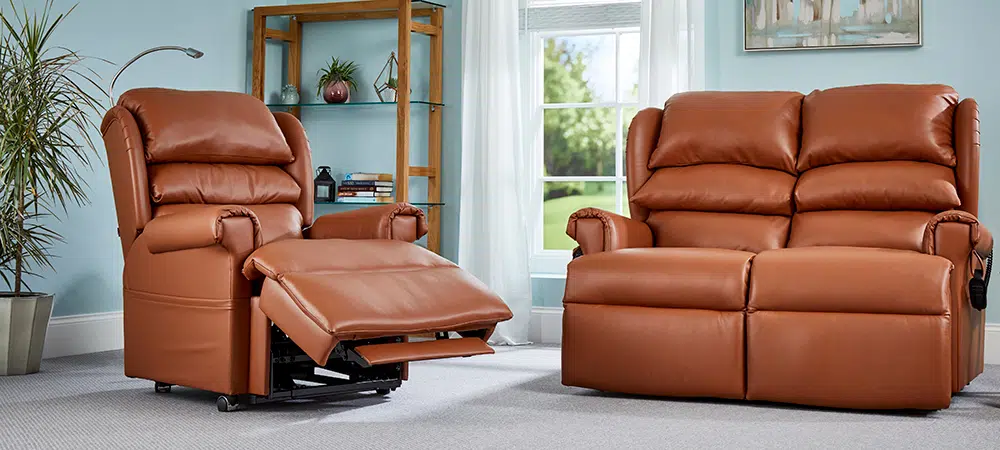 Our Most popular Mobility Recliner Chairs
The Malvern
The Malvern riser recliner is our customer's favourite. Its buttoned back offers comfort and looks chic and stylish at the same time. Another lovely feature is the scrolled arms, which not only look great but also offer support and comfort at the same time.
This chair is available in a wide range of leathers and fabrics, as well as in heavyweight and custom sizes too.
The Windsor
Another of our customer favourites is The Windsor. Again, its button back is contemporary and looks lovely in any lounge. This chair also offers a supportive head cushion, offering you extra comfort and support when you are relaxing. Once again, this chair is available in a wide range of fabrics, leathers and sizes to suit you.
 The Capri
The Capri is designed with a deep padded waterfall back, offering maximum comfort and support. On top of this, its contemporary and stylish armrests differentiate this chair from the rest. This chair comes in a range of fabrics and leathers, so you can find the perfect one to match your living room!
Mobility Recliner Chairs Optional extras
Our mobility recliner chairs come with an extensive range of optional extras to suit your lifestyle. This helps to make your chair more personal.
Each of our optional accessories has been designed to help to enable you to live more independently. Here is what we offer.
Heat and massage system
The optional in-built heat and massage system is perfect for relaxing after a long day. As well as this, it can help to temporarily relieve your aches and pains too!
The massage system allows you to unwind and enjoy a full massage, or one which concentrates on one of five parts of your body.
Technology table
Our technology table features a USB port, wireless charger and a reading light. This easy to use gadget means that you can charge your phone or tablet by simply swivelling the tray table towards you.
This means you don't have to leave your mobility recliner chair when your gadgets run out of battery!
Interested in a New Riser Recliner Chair?
Order a brochure below for more information on our riser recliner range.
If you suffer from fluid retention, Rise and Recline Chairs could provide the perfect answer. There are many benefits that